Fantasy Productions
"The Art of DJ Entertainment"
(800) 386-3573 (908) 441-2427
Lou Nader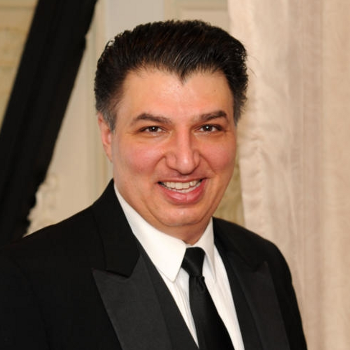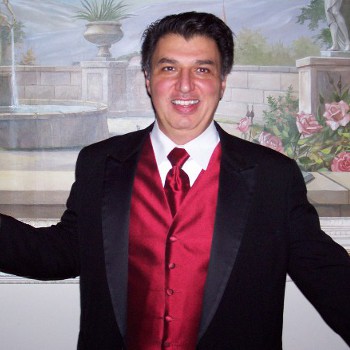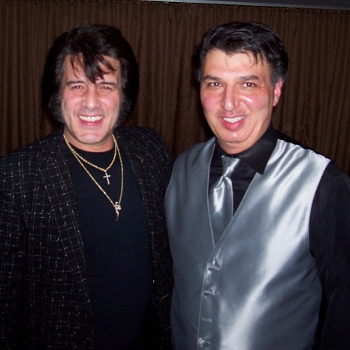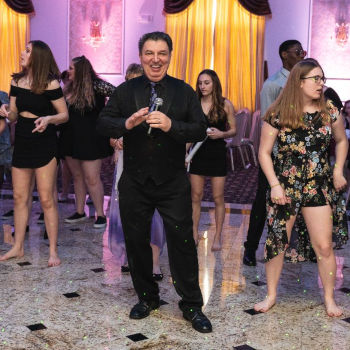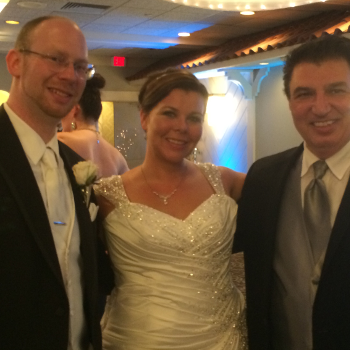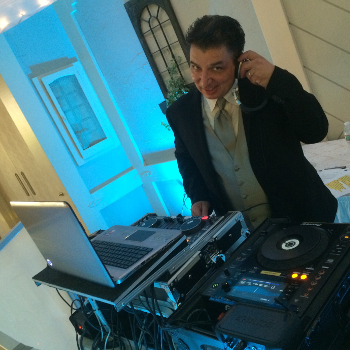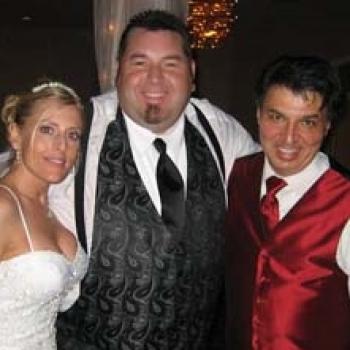 Lou Nader has a passion for DJ-ing and he loves to make your big day one that you and your guests will remember for many years.
With over 34 years of professional DJ/MC experience, Lou is the perfect choice to keep all your guests dancing and raving about the music. Lou prides himself in making sure every detail is covered to make your wedding day flawless!
Nicknamed "Lightning Lou" because he knows how to strike up a party and keep them dancing all night, Lou's personality and flexibility make him a stand out with Fantasy Productions.
Lou is a cross between Ray Romano and Elvis Presley. Being a huge Elvis fan, he has performed in Atlantic City dressed as "The King". He's also been told that he can pass as Ray Romano's brother! With acting as a passion, Lou has been cast as an extra on The Sopranos and Law and Order.
Lou cherishes the time that he spends with his family...wife Monica, daughter Gianna, son Justin and their two cats. Among his interests when he's not on the dance floor are acting, the NY Giants, the NY Yankees, watching Elvis movies and spending quality time with his family.
A little more about Lou...
Emcee/Entertainer since 1988.
Veteran of over 2,000 parties, including 500+ weddings.
Fully-insured to meet ALL catering hall requirements.
References available upon request.
Some of the events Lou has hosted...
Novartis Medical Holiday Party
Pediatric Hydrocephalus Foundation Fundraiser
ADP Holiday Party
Waldwick Girl Scout Mother/Daughter Dance
Harrah's Atlantic City
Mahwah PBA
Bergen Catholic Hign School Fundraiser
Read what clients are saying...
Robert: I would like to extend a thank you. DJ Lou is not only outstanding as a DJ, but an extreme professional as a person. He rose to the occasion and went beyond to help make Desiree's and Patrick's wedding phenomenal. I hope to work with you both again in the future. Should you have anyone who can use my service, please let me know, as I will do the same.
Laura Giordano
Pink Chandelier Lifestyles
---
Hi Bob.
I want to send you an actual note in the mail, but just in case that takes me a while to write and mail, I didn't want to delay in letting you know how wonderful DJ Lou was at our event last night, and how lucky we feel to have had him as our DJ.
He really did a stellar job. I didn't realize just how much a DJ can do for a party. He really took control and made sure that everything ran smoothly. He stayed on top of the pacing of everything, he really got the guests dancing—all night!, he calmed the music down to help the guests take some dinner, and he really handled the lighting of the 16 candles, helping to create a wonderful moment in the party. He also gave the kids a quick tutorial on the electric slide. This would have been a much different party without DJ Lou. He's also just a very very nice person. We can't thank him, and you, enough.
Most sincerely,
G.G. Armstrong
---
Dear Lou,
I can't thank you enough. What a pleasure. You are so understanding. The children had such a "Great Time" at the Communion. I will continue to pass your name around to anyone needing a DJ.
Thanks again.
Cathy Anniballi
---
Hi Lou,
I just wanted to let you know that we've had nothing but great feedback on the music at our wedding and people seem to have really had a blast. We danced the whole night and my guests complimented the DJ a hundred times!!
-Britt
---
I wanted to say thank you again for the party. My parents had a great time. You are truly the best DJ around!! Johnny and I watched the DVD of the wedding and I must say that it is awesome. Thanks again for everything....Michele
---
I wanted to thank you for the wonderful job you did at my son's Bar Mitzvah. Both Eileen and myself really enjoyed the show and the kids had a great time. The traditional songs and dances were a big hit. If anyone asks me for a recommendation, I will give them your name. All of my guests commented that they really liked the party.
Thanks,
Gene Eilleen
---
I can't thank you enough for such an awesome party! The songs were sooo good and the props made the kids happy. It was the best party ever! Everyone commented on how great the music was. Just a special thank you for making my party the perfect night!
Dawn M.
---
Hi Lou,
Just wanted to thank you and let you know that the "reviews" from Maddie's friends were great.
I have heard from a few parents today who told me that the kids said the DJ was "really good". I know that Madeline had a wonderful time. Thanks again for everything.
Cheryl Press
---
Hi Lou,
Just wanted to thank you for a great party once again! Everyone had a wonderful time...as usual! My girls took a lot of the giveaways that I bought and everyone loved the sunglasses, guitars, lite up clappers, glow necklaces, and the hula hoops.
Thanks again!
See you next time!
Emilia
May 2007
---
Dear Lou,
You read my mind... my boys haven't stopped talking about the great time they had yesterday! I suspect they will not soon forget, if ever, the great place and the wonderful people their dad gets to work with. You are truly the Best DJ around!
Many, many thanks!
Michael T. McGrath, PMP
ADP Major Accounts
---