Fantasy Productions
"The Art of DJ Entertainment"
(800) 386-3573 (908) 441-2427
Neil Horgan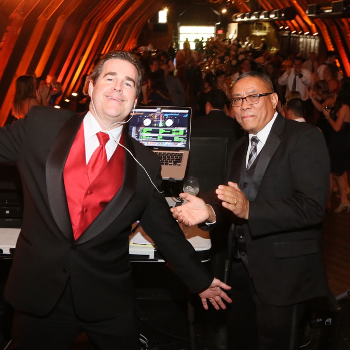 Neil Horgan is an upbeat and enthusiastic entertainer who loves to interact with the crowd. Neil started in the DJ business when Audience Participation was all the rage at weddings and parties. While its popularity has faded, he still knows how to integrate these type of dances into your wedding in a classy and professional manner to entertain your guests if you desire. His extensive knowledge of music history allows him to program an expert mix of music for all of your guests from grandpa right down to your flower girl. His love of pop music allows him to spin some of the best beat to beat dance mixes to keep your dance floor hopping all night.
Neil's fluid style and approach to the parties he hosts blends in well for a good time being had by all the guests. Although he is suited for any type of event, his experience at DJ-ing over 900 weddings makes him a popular wedding favorite. One of Fantasy Productions most popular entertainers, Neil is often booked far in advance.
When he's not hosting parties, Neil enjoys spending time with his wife and four children. He is also very interested in sports ("Go Giants!") and sprint triathlons. He is an avid skier and golfer, and coaches his children's lacrosse team. Though he loves all types of music, at heart he is a classic rocker and some favorite bands include The Grateful Dead, Van Halen, Dave Matthews, Metallica and Bob Marley.
A little more about Neil...
Emcee/Entertainer since 1990.
Veteran of 1,500+ parties, including over 900 weddings.
Studied four years of Radio Arts at Montclair State University.
Fully-insured to meet ALL catering hall requirements.
References available upon request.
Some of the events Neil has hosted...
Canon Corporation company picnic.
Hewlett Packard Corporation Holiday Party.
Calvin Klein Corporation company picnic.
Read what clients are saying...
Bob
I wanted to thank you for all of your help in making my daughters sweet 16 a great party. Neil was very good and the kids loved the music and danced.
I will recommend your company!
Best
Rosanna Pandorf
August 2019
---
Hi Neil,
I just wanted to say thank you for everything last night. You were fantastic and the music was great! Everyone was complimenting me on the music. We really appreciate it. I didn't have money on me when you came to say goodbye and we would like to send you a tip for your great work.
Do you mind sharing your address to me so I can send you something in the mail?
Sincerely,
The Raia's.
October 2016
---
Hi Neil
Just wanted to thank you again for helping to make our day perfect. You did a great job and we had a blast!
Thanks so much
Amy and Mark
November 2015
---
---
Neil,
Just wanted to drop a quick line to say thanks again for all you did to make our wedding such a special day! As 2 musicians, picking a DJ was a decision that was not made lightly and we could not have asked for anyone better! You and Mike did an amazing job! The music selection, pacing, atmosphere, name pronunciation...everything was perfect!
All of our guests, young and old got to hear something they loved and could dance to!
Thanks again, we couldn't be happier! It was truly the best night of our lives and we will definitely be passing your name on to our friends.
Many thanks and so much appreciation,
Jaclyn and Andrew Havington
June 2014
---
Hi Bob -
The karaoke was a success! Neil was awesome....he kept the crowd entertained at all times and was a complete professional. He received many good reviews
(Sometimes people need to warm up but he kept things going.)
Thanks again for all your help the past 2 wks.!
Regards,
Michelle
December 2011
---
---

---
Hi. I just wanted to say that our party was a great success. Everybody loved Neil. He did such a great job. Please let him know how much we appreciated all that he did. You really made our party a very special night. My parents are still talking about it. Thank you so much.
Dina
October 2005
---
Hi Neil-
How are you? I am sure you are very busy this time of year! I just wanted to take a quick moment to tell you how much we enjoyed the music on our Wedding Day at our reception. Chris & I were married on October 26th and you were our DJ at The Lafayette House. I know it is hard to remember everyone, so don't worry!
Anyway, I have wanted to send a Thank you note but since we returned from our honeymoon, life has been a crazy whirlwind with all the holidays, etc! So, I decided to just send a quick e-mail instead.
I truly want to say a heartfelt "Thank you" for doing such a wonderful job at our wedding! I have always wanted to have one of those weddings where everyone had a great time and there was lots of dancing. We have gotten so many compliments on our Wedding; from the ceremony to the cocktail hour to the reception. Everyone said the same thing- "The music during your cocktail hour and dinner was so nice!" and "the DJ was so fun and we loved all the music he played", etc. etc!
We had such a great time and believe it or not-I actually remember most of it!
Thank you again and I wish you the best of everything in the future! If you ever need a reference we would be happy to do it. Just give us a call at home (908-***-****). I will recommend you to any bride & groom looking for an excellent DJ!
Happy Holidays!
Nicole Ariemma
October 2006
---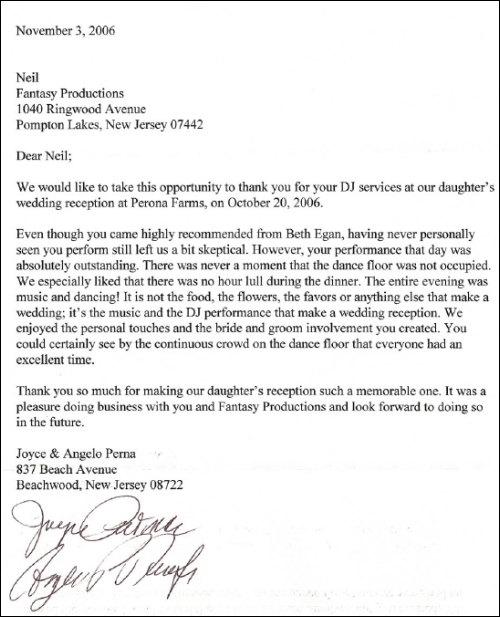 ---